If you can't vent to the outside, no problem.
Laser fume extractors suck up fumes that are created in the process of laser cutting and filter the toxic chemicals out of them.
These systems are essentially vacuum and filtering systems made specifically for laser fumes.
Eliminate heavy odours and fumes generated by laser applications
These Laser engraver fume extractors feature a multi-stage filtration system with HEPA, Oxy carbon and a pre-filter.
The fume extractors are fairly compact and ideal for various laser applications.
The fume extraction system aims to extract, filter and recirculate clean air back into the workspace.
[rev_slider alias="Fume-Extractors–Page-Slider" /]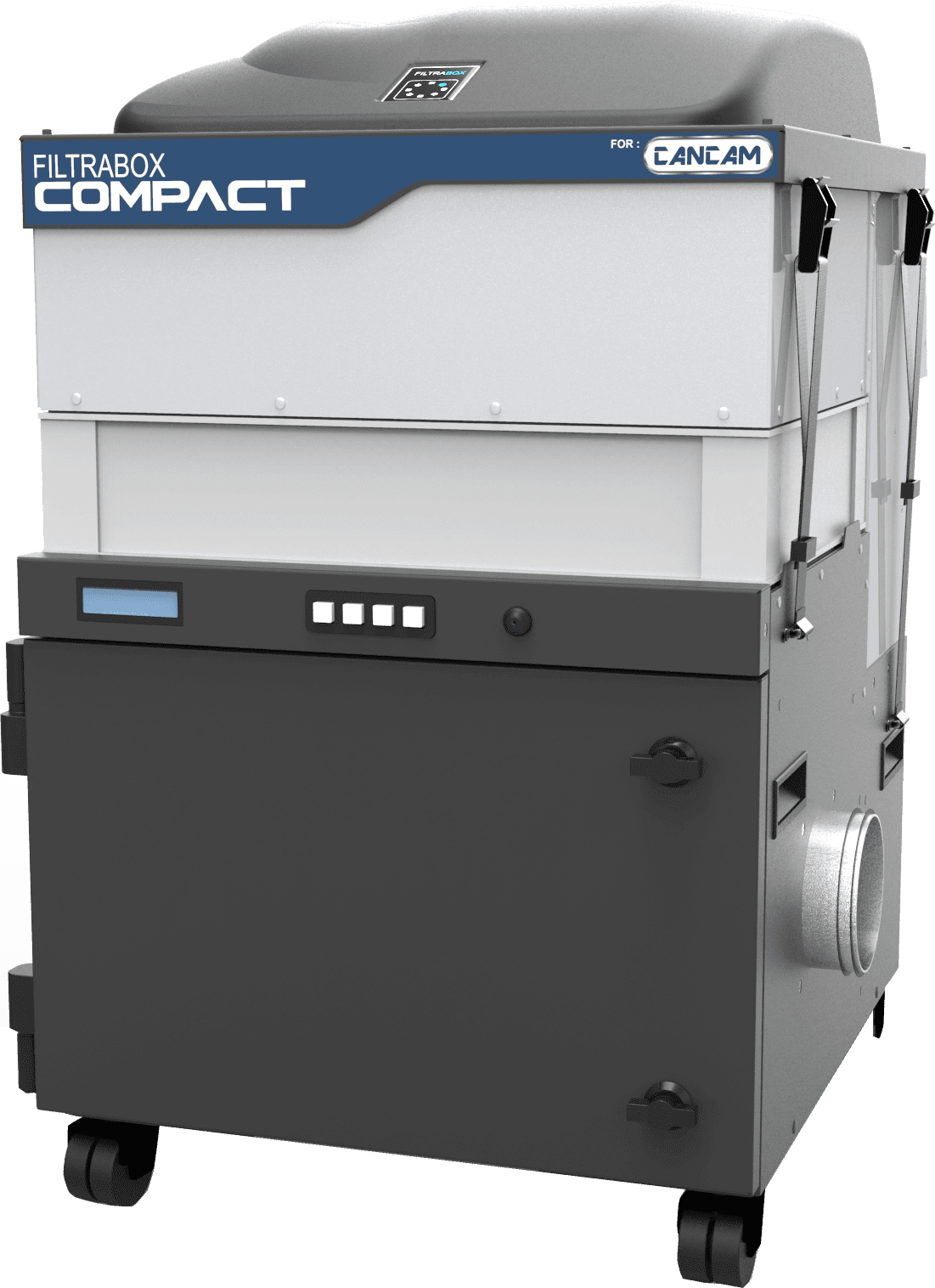 EZ-MOD upgrades; plug and play modularity

1 maintenance-free blower for longer life and efficiency

High efficiency HEPA filter removes 99.999% of particles at 0.3 microns

Extended filter life with patent pending 360° pre filter and debris trap

1 Gas filter provides long life and is easy to lift and ship

Lower running costs thanks to separate gas and HEPA filters

Dynamic Flow Control boosts power as filters block up

Simple flow settings for quick start-up

Airflow sensor for dynamic flow control – (standard)

VOC sensor offers extra assurance of gas filter function (optional)

Dust sensor offers extra assurance of HEPA filter function (optional)

Lower equipment cost by design

Stacked design makes filter replacement easy and reliable

Interfacing to host machines for automatic start/stop

Simple user interface

North American quality design

Customer support you can count on

Fastest service and shipping
| | |
| --- | --- |
| Feature | Value |
| Quiet operation | 56 db |
| Height | 31 in. |
| Width | 21 in. |
| Depth | 25 in. |
| Glassfiber pre-filter capacity | 7 m² |
| Glassfiber HEPA filter capacity | 6 m² |
| Carbon filter capacity | 1×40 lbs |
| Voltage | 230/120 V |
| Frequency | 50-60 Hz |
| Wattage | 1.1 kW |
| Warranty | 1 year |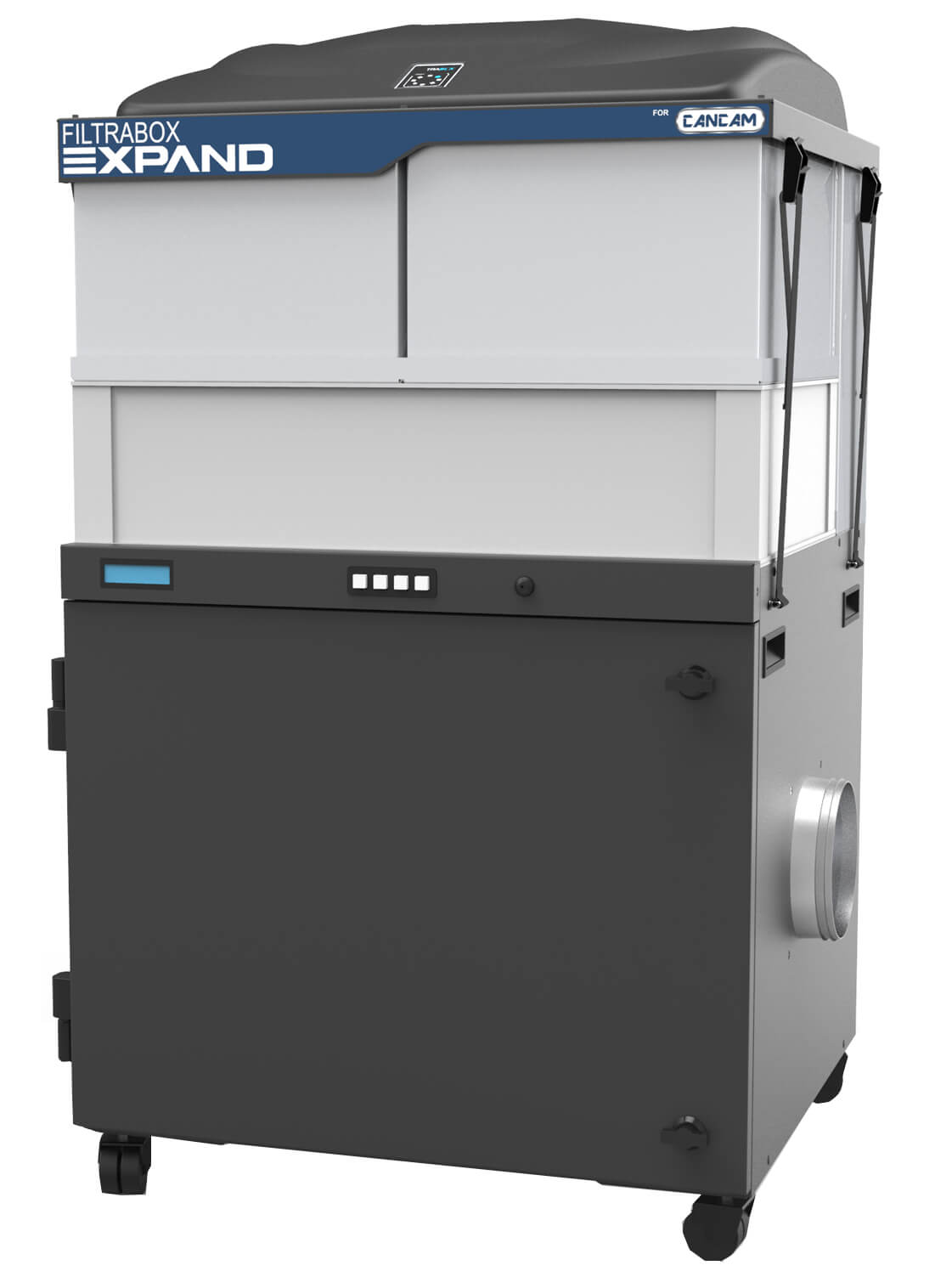 EZ-MOD upgrades; plug and play modularity

1 maintenance-free blower for longer life and efficiency

Super capacity HEPA filter removes 99.999% of particles at 0.3 microns

Extended filter life with patent pending 360° pre filter and debris trap

2 separate gas filters provide long life and are easy to lift and ship

Lower running costs thanks to separate gas and HEPA filters

Dynamic Flow Control boosts power as filters block up

Simple flow settings for quick start-up

Airflow sensor for dynamic flow control – (standard)

VOC sensor offers extra assurance of gas filter function (optional)

Dust sensor offers extra assurance of HEPA filter function (optional)

Lower equipment cost by design

Stacked design makes filter replacement easy and reliable

Interfacing to host machines for automatic start/stop

North American quality design

Customer support you can count on

Fastest service and shipping
| | |
| --- | --- |
| Feature | Value |
| Quiet operation | 56 db |
| Height | 44 in. |
| Width | 29 in. |
| Depth | 28 in. |
| Glassfiber pre-filter capacity | 30 m² |
| Glassfiber HEPA filter capacity | 12 m² |
| Carbon filter capacity | 2×40 lbs |
| Voltage | 230/120 V |
| Frequency | 50-60 Hz |
| Wattage | 1.1 kW |
| Warranty | 1 year |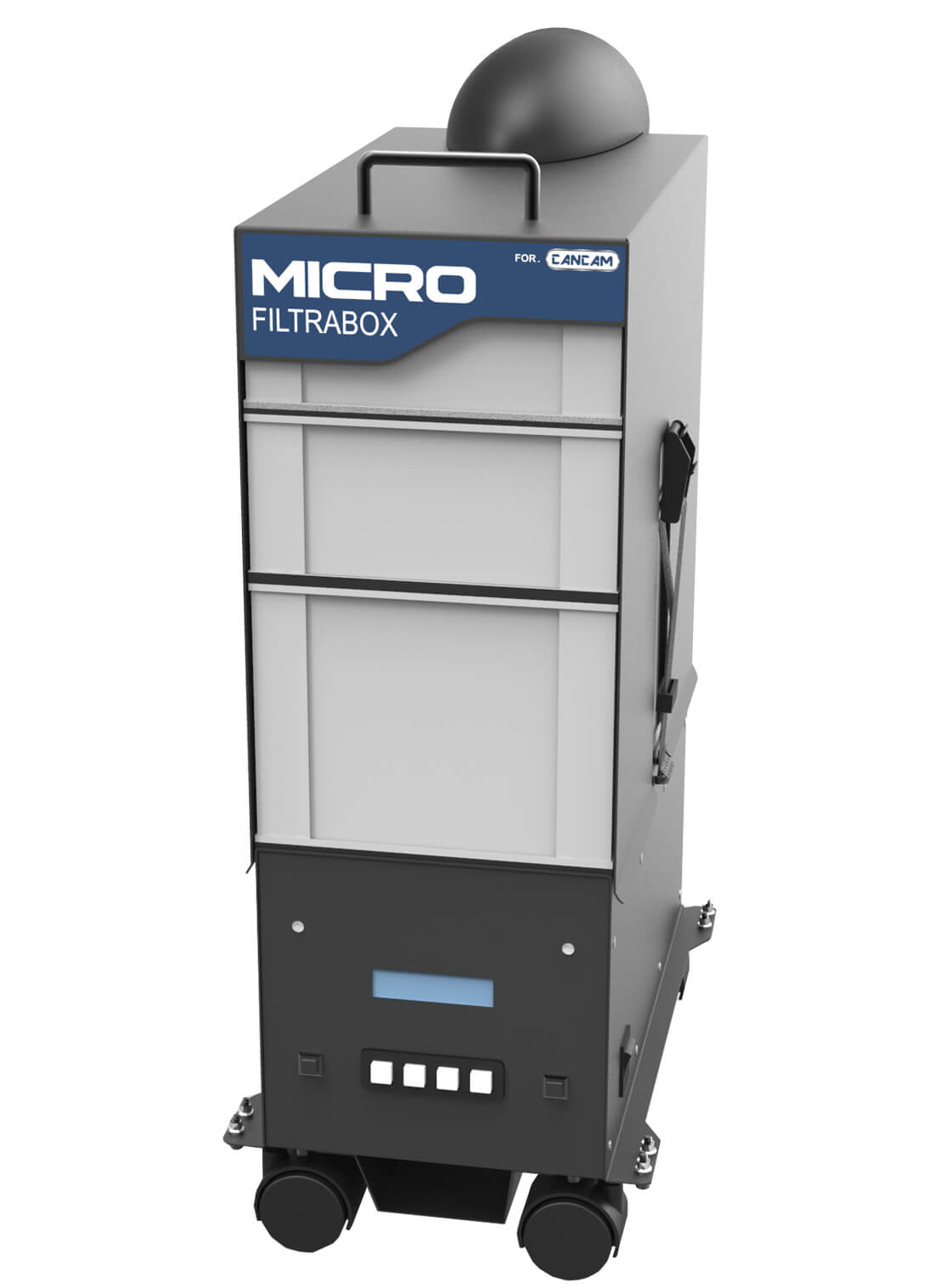 EZ-MOD upgrades; plug and play modularity

1 maintenance-free blower for longer life and efficiency

High efficiency HEPA filter removes 99.999% of particles at 0.3 microns

1 Gas filter provides long life and is easy to lift and ship

Lower running costs thanks to separate gas and HEPA filters

Dynamic Flow Control boosts power as filters block up

Simple flow settings for quick start-up

Airflow sensor for dynamic flow control – (standard)

VOC sensor offers extra assurance of gas filter function (optional)

Dust sensor offers extra assurance of HEPA filter function (optional)

Lower equipment cost by design

Stacked design makes filter replacement easy and reliable

North American quality design

Customer support you can count on

Fastest service and shipping
| | |
| --- | --- |
| Feature | Value |
| Quiet operation | 50 db |
| Height | 26 in. |
| Width | 10 in. |
| Depth | 17 in. |
| Glassfiber pre-filter capacity | 3 m² |
| Glassfiber HEPA filter capacity | 3 m² |
| Carbon filter capacity | 1×20 lbs |
| Voltage | 120 V |
| Frequency | 50-60 Hz |
| Wattage | 0.7 kW |
| Warranty | 1 year |