If you've been working with an introductory laser machine for cutting acrylic, upgrading to a more powerful and faster laser can make all the difference in increasing your productivity and capacity. When looking for your next laser, there is no doubt that the experts at Aeon Laser Canada are your top choice.
By choosing to purchase an acrylic CO2 laser cutting machine from us, you can feel confident that you are getting a high-quality, fast, and powerful laser that suits your need as well as the support to boost your success. We provide our customers with free setup training, unlimited email and phone support, and a one-year factory warranty making us your top choice.
What Makes an Aeon Laser the best Laser for Cutting Acrylic?
Choosing an Aeon laser for cutting acrylic means that you can simplify your setup and boost your productivity. With an all-in-one design, there is no need for additional accessories. Look forward to "Clean-Pack" design with water-cooling, exhaust fan, and air pump assist integrated into your laser cabinet. Powerful, versatile and fast, you're going to love your new laser.
How Deep Can I Cut with an Acrylic Engraver?
An Aeon Laser can cut from as thin as paper to as thick as .75" of MDF, as an example. This spectrum of depth is unique to each machine and mode. You can choose the size of the laser tube or power required to cut through your specific acrylic type and thickness. You can reference our cutting guide HERE
What Projects Can be Made with a Laser Engraver for Acrylic?
A laser engraver for acrylic makes it possible to create a wide range of products. Unlock your creativity and make acrylic signs, coasters, toys, lights, and other décor items all with one laser cutting and engraving machine. Your CNC laser cutting machine makes it easy to create beautiful acrylic products with efficiency.
Can Other Materials Be Cut on a CO2 Laser Acrylic Cutting Machine?
When you choose an Aeon laser, you are not limited to only one material type. Though acrylics may be your niche, your laser can accommodate a wide range of material options. Wood, rubbers, leather, paper, and other plastic products can all be used to create with your laser. Even cylindrical materials can be used with the appropriate rotary attachment. There are endless possibilities for creation with an Aeon laser.
How Can I Find the Best Laser Cutter for Acrylic?
An Aeon laser is an ideal choice for anyone who requires a fast, powerful, and versatile laser. Knowing which laser is best for you comes down to the unique needs of your business. Mira series lasers are suitable for those who require fine detail or are confined to a smaller workspace. The Nova series is ideal for commercial businesses that demand speed or work with larger materials. The right choice for you is easy to find once you've pinned down the needs of your business.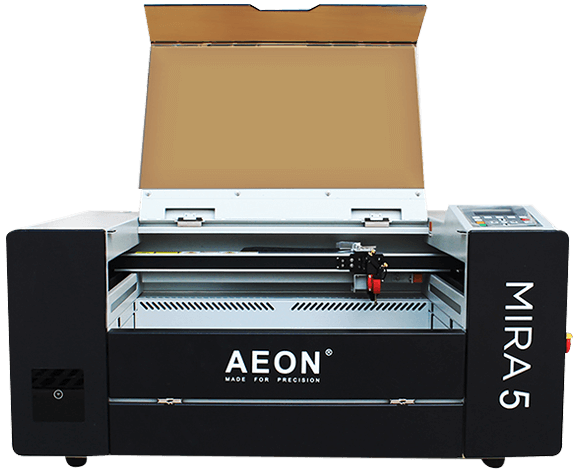 MIRA SERIES
Compact, versatile, and fast… the Mira Series laser engravers offer a powerful, comprehensive solution for those who have limited space. Create more with this fast laser that provides exceptional detail for engraving and cutting. With a 'Clean-Pack' integrated water-cooling system, exhaust fan and air assist pump, you'll get the performance you need. When looking for a laser engraver Canada business owners who demand excellence know the Mira Series is an exceptional choice. Find your Mira Series laser engraver at Aeon Laser Canada and get the lifetime email and phone support you need to be successful.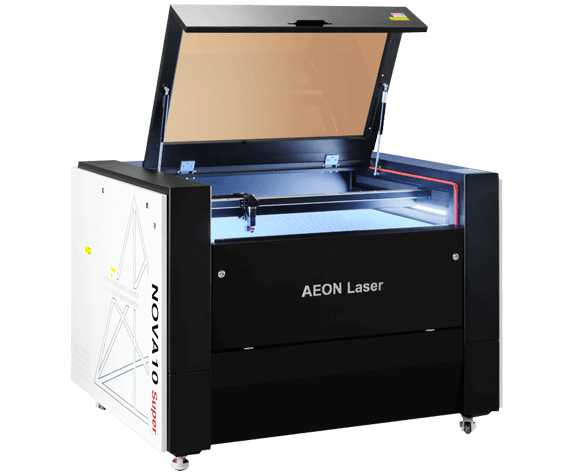 ELITE NOVA SERIES
Nova Series laser engravers are designed and made for those who need the highest speed performance and/or require the ability to work with larger materials due to the rear pass-through door on the rear of the machine. The Nova is cleverly designed to be able to come apart into two pieces allowing for the CNC laser cutter to fit through standard doorways. The Nova series is a preferred choice for business owners who produce at high capacity and need a laser that can keep up with their production needs. With advanced design features, including an incorporated water chiller, exhaust fan, air pump and knife table with a scrap drawer to keep your workspace clean as you work, these features are why the Nova Series is the CO2 laser engraver Canada business owners covet. Get your Nova Series laser engraver from Aeon Laser Canada for the best warranty and lifetime customer support.