A powerful, fast, and versatile CNC machine for plastic could be just what you need to take your home-based or commercial business to the next level. Whether you are looking to keep up with ever-increasing demand or simply want to unlock your potential, an Aeon laser cutter for plastic and other materials is sure to make the difference. From cutting to etching and engraving, a CNC plastic cutting machine that exceeds your expectations is waiting for you at Aeon Laser Canada.
As you search for a CNC plastic laser engraving machine, you'll want to be sure you purchase from a supplier who helps you understand your machine and is committed to your success. At Aeon Canada, we go above and beyond to provide our customers with free setup training, unlimited email and phone support, and a 1-year factory warranty. Purchasing your laser engraver for plastic from us means you can feel supported through every stage of the learning process.
What Makes an Aeon the Best Choice When Looking for a CNC Machine for Plastic?
You can't go wrong with choosing an Aeon CNC machine for plastic products and other material options. Allowing you to simplify your workspace while increasing your productivity, Aeon makes an engraving machine for plastic that will help you expand your capabilities. With an all-in-one design, you can streamline your setup and eliminate the need for external accessories. Enjoy the "Clean-Pack" design with water-cooling, exhaust fan, and air pump assist conveniently integrated into your laser cabinet.
What Projects Can Be Completed with a CNC Plastic Cutting Machine?
Plastic is a popular material choice when working with a CO2 laser. There are endless possibilities available to be created through products such as keychains, tumblers, coasters, and signs are popular options. Your CNC plastic engraving machine can help you expand your product offerings and unlock your creativity. Exceed your own expectations by choosing a CNC plastic sheet cutting machine that helps you do more, faster.
What Other Materials Can Be Used with a CNC Laser?
Your CNC plastic machine for etching, cutting, and engraving is compatible with a variety of materials. Whether you are dialed into your niche or like to try new things, your laser allows for endless possibilities. Beyond plastics, your machine can also be used as a laser engraver for wood, fabric, paper, leather, glass, and even natural stone. You may also work on cylindrical materials with a rotary attachment, including anodized stainless steel.
How Can I Know Which Laser is Right for Me?
When looking for a plastic CNC machine for sale, you cannot go wrong with an Aeon Laser. Nova Series lasers are suitable for those with large workspaces who want to create at a high volume, such as commercial businesses. Home-based businesses or start-ups looking to expand their capacity find the Mira Series laser to be ideal due to its more compact size. Mira Series offers exceptional speed for smaller-scale production while providing precision for more detailed products.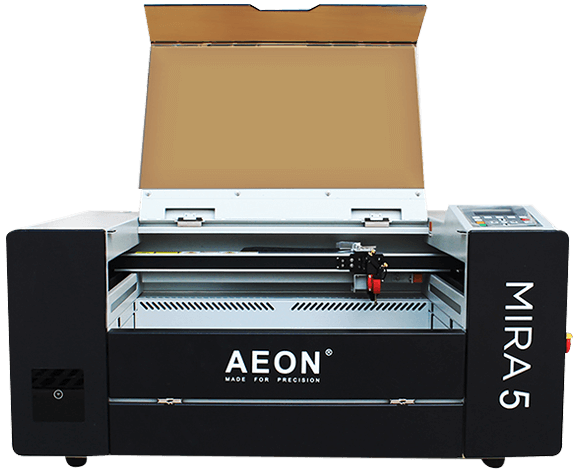 MIRA SERIES
Compact, versatile, and fast… the Mira Series laser engravers offer a powerful, comprehensive solution for those who have limited space. Create more with this fast laser that provides exceptional detail for engraving and cutting. With a 'Clean-Pack' integrated water-cooling system, exhaust fan and air assist pump, you'll get the performance you need. When looking for a laser engraver Canada business owners who demand excellence know the Mira Series is an exceptional choice. Find your Mira Series laser engraver at Aeon Laser Canada and get the lifetime email and phone support you need to be successful.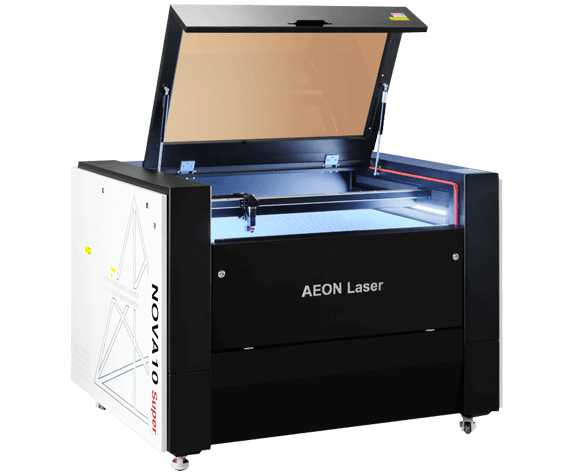 ELITE NOVA SERIES
Nova Series laser engravers are designed and made for those who need the highest speed performance and/or require the ability to work with larger materials due to the rear pass-through door on the rear of the machine. The Nova is cleverly designed to be able to come apart into two pieces allowing for the CNC laser cutter to fit through standard doorways. The Nova series is a preferred choice for business owners who produce at high capacity and need a laser that can keep up with their production needs. With advanced design features, including an incorporated water chiller, exhaust fan, air pump and knife table with a scrap drawer to keep your workspace clean as you work, these features are why the Nova Series is the CO2 laser engraver Canada business owners covet. Get your Nova Series laser engraver from Aeon Laser Canada for the best warranty and lifetime customer support.