Laser Cutter for Crafts
Anything you make by hand is crafting, and by having a laser for crafts, you can expand on your creativity and make products faster and with even more detail and precision. Whether you are looking for a craft wood cutting machine or a laser cutter for paper crafts, an Aeon laser cutter can expand your possibilities.
At Aeon Laser Canada, we are your preferred source when looking for a laser cutter for wood crafts or a laser cutting machine for paper crafts. Beyond providing you with a high-quality laser, we also give you the support you need to use it effectively. We are proud to offer our customers free setup training, unlimited email and phone support, and a 1-year factory warranty. Find your perfect laser cutter for crafts at Aeon Laser Canada.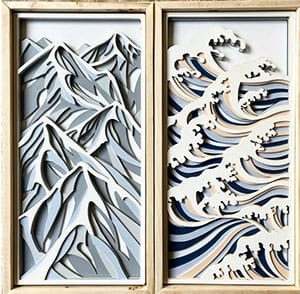 Why is an Aeon Laser the Best Laser Cutter for Crafts?
Your craft laser cutting machine from Aeon offers a simplified solution for your workspace. With an all-in-one design, your wood craft laser cutter eliminates the need for additional accessories. Look forward to "Clean-Pack" water cooling machine, exhaust fan, and air pump conveniently integrated into your laser cabinet. Bringing you speed and precision, your wood cutting craft machine is better when you choose an Aeon laser,
How Deep Can I Cut Wood with an Aeon Laser Cutter?
When looking for a wood laser cutting machine for crafts, depth of cutting is often a top consideration. The thickness of wood that is able to be cut with your laser will depend on the material you are using. Our laser cutting guide offers insight into what may be possible with your laser wood cutter for crafts.
What Other Materials Can My Laser Be Used With?
When looking to purchase a laser cutting machine for wood crafts, choosing a machine that offers versatility is a smart move. Your Mira or Nova series laser from Aeon allows you to work with a variety of materials beyond wood and paper, including plastics, acrylics, and glass. Unlock your potential by choosing a laser that offers more possibilities.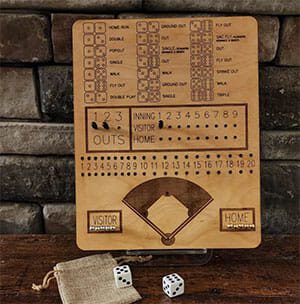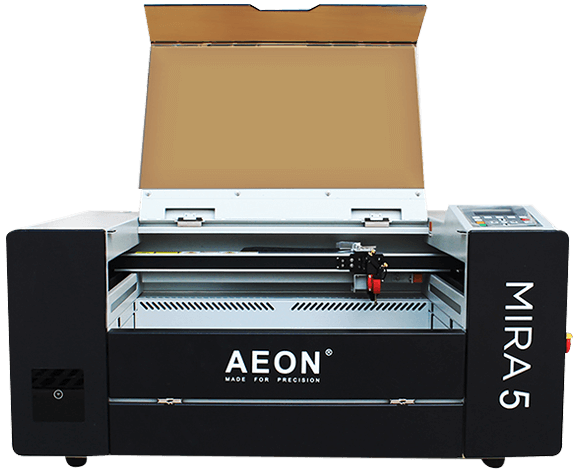 MIRA SERIES
Compact, versatile, and fast… the Mira Series laser engravers offer a powerful, comprehensive solution for those who have limited space. Create more with this fast laser that provides exceptional detail for engraving and cutting. With a 'Clean-Pack' integrated water-cooling system, exhaust fan and air assist pump, you'll get the performance you need. When looking for a laser engraver Canada business owners who demand excellence know the Mira Series is an exceptional choice. Find your Mira Series laser engraver at Aeon Laser Canada and get the lifetime email and phone support you need to be successful.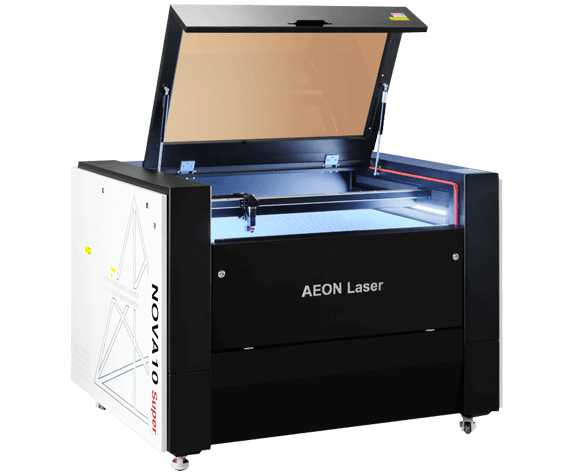 ELITE NOVA SERIES
Nova Series laser engravers are designed and made for those who need the highest speed performance and/or require the ability to work with larger materials due to the rear pass-through door on the rear of the machine. The Nova is cleverly designed to be able to come apart into two pieces allowing for the CNC laser cutter to fit through standard doorways. The Nova series is a preferred choice for business owners who produce at high capacity and need a laser that can keep up with their production needs. With advanced design features, including an incorporated water chiller, exhaust fan, air pump and knife table with a scrap drawer to keep your workspace clean as you work, these features are why the Nova Series is the CO2 laser engraver Canada business owners covet. Get your Nova Series laser engraver from Aeon Laser Canada for the best warranty and lifetime customer support.